A Brief RM History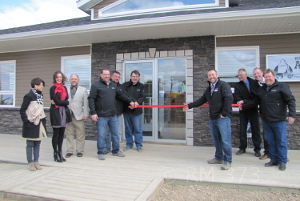 On June 24, 1909, a committee submitted a petition to organize 7 full and 3 partial townships. This petition was granted on July 26, 1909. The Municipal Committee named John J. Heinrich of Aberdeen as their representative. The petition was signed by 58 people. The petition was granted by a vote taken on July 26, 1909. The Rural Municipality was established by the Order of Honourable A.P. McNab, Municipal Commissioner, December 13, 1909. Since then, one township was annexed by the R.M. of Corman Park. During the period of 1915-1919, considerable road improvements and construction have taken place because of the new popularity of automobiles. Roads still remain the major concern for the municipality. Today, the R.M. of Aberdeen maintains over 340 miles of road in the summer and over 200 miles of road in the winter. Highways #41 and #27 run through the R.M.
Land Acknowledgment
The RM of Aberdeen No. 373 is located on Treaty 6 Territory and the Homeland of the Métis.
The South Western border of the R.M. of Aberdeen No. 373 is just five miles east of Saskatoon, the largest city in Saskatchewan. We have the country residential areas of Strawberry Hills, Strawberry Ridge, Valley View Heights, Cherry Hills Estates, Bergheim Estates, The Meadows, Prairie Rose Estates, and Mission Ridge Estates. The subdivision of Edenburg lies three miles north east of the Town of Aberdeen, which is twenty minutes north east of Saskatoon.
The R.M. of Aberdeen is the home of the Fish Creek Historical Site, where a monument sits at General Middleton's Camp. The battlefield where Middleton fought the Riel troops during the Riel Rebellion is located one mile south east of the camp where two additional monuments to the historical battle have been placed. The Clarkboro Ferry is located close to the Historical Clarke's Crossing where Middleton's troops crossed the South Saskatchewan on their way to the Fish Creek Battle from North Battleford. A monument to Clarke's Crossing has been placed on Edenburg road, south west of the Town of Aberdeen.
Within the boundaries of the R.M. of Aberdeen reside four major businesses. Louis Dreyfus High Throughput Grain Terminal lies along the CNR line. Northland Logistics fertilizer storage plant currently shares the CN Line with Louis Dreyfus. Horizon Seed Processors process pulse crops which are then shipped throughout the world. Hold-On Industries is a manufacturer of plastic water tanks and floating docks among other things. Agriculture is the leading industry in the region.
The municipal office is located within the Town of Aberdeen, which is located along Highway 41 in the center of the municipality. The municipality provides a library, transfer station, fire fighting, first responders, and recreation facilities through agreements with the Town of Aberdeen.